Here is a classic electric guitar that hasn't undergone any major change in more than fifty years, and remained one of the most cherished guitars even among the young hard-rocking musicians of today.

When Leo Fender first thought of a guitar that would be a fitting successor to the "old fashioned" Telecaster, he envisioned one with a futuristic touch that is perfect in many ways.

As its principal designer, Leo Fender produced the first Stratocaster in 1954. Here at last was a brand new electric guitar with innovative and futuristic design that came in a myriad of colors.


Yngwie Malmsteen playing his famous scalloped-neck Stratocaster.
Photo credit: 8wilson
However, to Leo's disappointment, most Telecaster and Esquire players at the time didn't catch on, and preferred their old trusty axes over the new and flashy Stratocaster.
Indeed, Leo Fender produced an electric guitar with features and qualities that made it way ahead of its time. It has taken quite a while before some serious musician declared: "Hey! This is a pretty cool piece of equipment!"
Ultimately, the Stratocaster became Leo Fender's most successful design. Some of the evolutionary features of this guitar include:
a plastic pickup cover that eliminates feedback,
a higher cutaway that makes playing high notes easier,
a body contour that makes this electric guitar comfortable to hold and play, and
a revolutionary whammy bar design.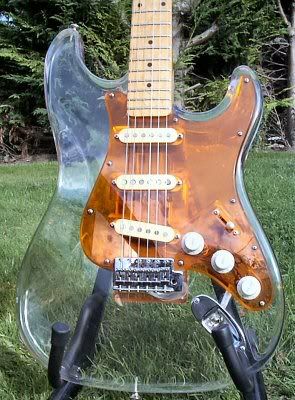 To date, no one has yet come up with a better design for the Stratocaster than what has been laid down by Leo Fender way back in the fifties. The Stratocaster has remained the instrument of choice for many guitarists today, and will undoubtedly continue to be so for many years to come.